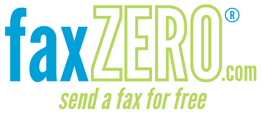 A few of the nice things people have written about FaxZero.com
"If you're in a hurry and just want to send occasional short faxes, FaxZero is your best option among these three. It's easy to use, it sends faxes quickly, and it's free."
—&quotSend Faxes From the Web: Three Services Tested&quot, PC World, Feb 2, 2012
What about the venerable fax line? No need for that if you have Internet access and a scanner. Services including faxzero.com have that covered.
—&quotWith new fees on the line, is it time to ditch your home phone?&quot, Reuters, October 26, 2011
One of "25 Fabulous Freebies"
—All You Magazine, May 20, 2011
One of "52 Incredibly Useful Sites"
—&quot52 Incredibly Useful Sites&quot, PC World, April 25, 2010
Instead of sending images, FaxZero takes PDFs and Word documents, making it a better choice for PC-based use...
—&quot19 Free Web Services That Keep Saving You Money&quot, PC World, September 7, 2009
Instead of paying FedEx $1.49 to fax one page, sign up to send free faxes from a provider such as faxZero...
—&quot10 Things We Overpay For&quot, Kiplinger, March 6, 2009
"7 Ways Tech Can Save You a Bundle"
—U.S. News and World Report, February 27, 2009
Don't shed any tears if you can't use the crummy scanning tool that comes only with the Business, Enterprise, and Ultimate editions [of Vista]...forget tying up your phone line and use a free Internet fax service instead, such as FaxZero...
—PC Magazine, Oct. 17 2008
Clark Howard's "Free and Cheap List"
—The Clark Howard Show
"10 Must-Haves for Your In-Home Office"
—ABC 11 TV, Raleigh, NC, January 17, 2008
"The perfect tool for those moments that require you to transmit old-school!"
—Free online faxing, KTAR-FM (Arizona), August 7, 2013
A true free online fax service!...Quite the bargain in this day and age!
—TheInternetPatrol.com
When you need to send a fax and don't have an archaic beige fax machine, use FaxZero... The test fax I sent arrived quickly and with a very crisp, clear resolution.
—LifeClever.com
There are a few places online that allow you to send a free fax, no strings attached. My favorite is FaxZero, which lets you send a fax to any fax machine in the United States (including Puerto Rico) or Canada for free.
—AskBobRankin.com
I am writing to simply say thank you for your service as I have found it invaluable. You guys have the best service ever and I really appreciate what you do.
—S. Gopaul
Thank you for a wonderful service. As a small business owner on a shoestring budget, your service is greatly appreciated.
—J. Davis
You guys are amazing. Can't begin to tell you guys how much I enjoy your free service. I am always in hotel rooms without printers, so what I do is simply fax something to myself to the front desk of the hotel and collect paperwork. I also have no phone line in my home, so when I need to fax something its all through cable internet.
—B. Kollar
I recently sent a fax on your website and I have to tell you that it was a pleasant experience, thank you ever so much
—M. Ata
I appreciate very much the opportunity to use the faxzero service and found it to be very handy, easy to use and truthful. I am currently looking for a position and usually can email my details but was not able to on this particular occasion. Your service was invaluable.
—K. Cook
I was in a jam this morning and needed to fax something. My fax isn't working, and thanks to your service, I was able to do the job I had to do! The recipient was receiving the fax before I could even advice them it was happening! Thank you for your terrific service!
—Cathy S.
For a free, occasional fax, without the headaches imposed by the likes of e-fax, FaxZero.com is a clear winner.
—flyingashtrays.blogster.com/review_faxzerocom.html
As a web designer, I would like to express my thanks for the service your company provides. This is the most effective, no-bull way to send a fax online that I have seen, and believe me, I have looked.
—Charlotte R.
I had, what was for me, an emergency. I had to get an important document somewhere at a moment when I had no credit card access for any other service, and no transportation to any place that provided these services. All I had access to was a computer and the internet. Thank you so very much for helping me to get my information forwarded to its necessary locale.
—Theresa A.
Thank you for offering this free service. I am currently disabled and it is quite a distance to any fax service from where I am staying. Also, I don't have a lot of money, so every penny adds up. It's tough to even spend a couple of dollars in gas and costs for sending a fax out at Kinkos or wherever. I don't need to fax things very often, so a subscription is a bit ridiculous, but when I need the service, I REALLY do need it!
—Todd F., Blaine WA
Thank you for your excellent and free service! I just encountered an emergeny situation in which i needed to fax information in a timely manner. Not only did your site do a fabulous job of sending the information, but it was free too! Thank you for your excellent free service and for helping me out in an emergency.
—Kyle
I just utilized your free fax to test my machine at home and was VERY impressed that you offer exactly what you advertise. I like the idea of "paying as you go" for faxing, and the bonus is the free 2 faxes a day. You've got a customer for life.
—Gayle H., Branson, MO
I would like to thank you for such an invaluable service! In times of searching for a new job, it was necessary to fax my resume quite often. Your service was so quick and affordable, not to mention reliable! How refreshing to find such a wonderful service like yours.
—Nancy A.
Just wanted to say thank you for providing such a great service at no cost. You've made applying for jobs a breeze for me. I used to have to run down to Kinkos to send and receive faxes from potential employers.
—Ryan D.
I just want to thank you for providing excellent service. You have saved me many trips to a fax machine and have made it very easy to do it right from my computer.
—A. DeVille
You are a superstar. Thank you for helping me figure out how to fax my one and only fax of the year of only one page. A superstar!
—Tracey
I just wanted to let your staff know of what an excellent site this it. Keep up the good work!
—Mike
EASIEST WEB SITE TO USE EVER!!!! Just had to commend you for stripping out all of that extraneous crap and just making a really useful, simple to use and figure out page.
—Laura-Jane
Faxzero is near perfection! Thank you! I rarely need to send faxes and really appreciate this online, pay as you go, service (the freebies are nice too). I've already sent three premium faxes. And will likely send one more next week, and maybe none for weeks to come. And that's why you rock.
—Alan C.
Thanks... you people are awsome!!! It's nice to see a service prompt, true and on the ball.
—Martin R.
We love your service. We recommend to all of our clients that they use your service if they don't have a fax or just don't want to get one. I send about 2 faxes a day and love you all to death. I don't have to leave my office or anything.
—Ronald B.
Thanks very much for offering a non-subscription FAX service. I rarely need to FAX, so a subscription makes no sense to me. I save money since I don't have to subscribe to your competitors, and I save hassle having to print and find a brick-and-mortar store with a FAX.
—Dean H.
I wanted to thank you for the free fax today. You saved my health insurance and saved me thousands of dollars.
—Jamey R.
I want to express my thanks to your organization, and it's ethics, for the prompt refund of the charge for my failed fax. It seems to be rare these days to find firms that can react so quickly to set things right. You can be sure that I will use your service the next time I find the need.
—Lou J.
Just wanted to say thanks for offering this service. You saved the day for someone who needed to send in tax documents to the U.S. from South America and nowhere NEAR a fax machine. Thanks again.
—Jedediah W.
Back to FaxZero.com